Zenith Virago is the go-to marriage celebrant of Byron Bay, Australia, having conducted over 1500 marriage ceremonies. She's also the region's deathwalker, offering end-of-life decision planning and DIY funeral alternatives through her Natural Death Care Centre.
Both sides of her work share the same mission: to help people reclaim their most personal, vulnerable, and significant life moments from commercial pressure, government bureaucracy, and cultural taboo. Zenith's work and the support of Byron's citizens and elected officials invite us to take more creative and sustainable approaches to death.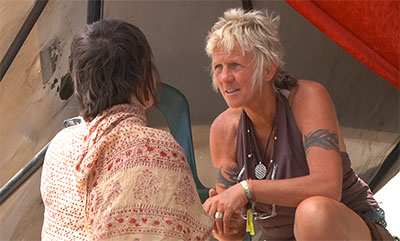 Filmmaker Broderick Fox and executive producer Lee Biolos embedded with Virago for five weeks of filming in Byron Shire to create Zen & the Art of Dying, a feature-length documentary portrait of Zenith and her pioneering work.
Explore the site to find out more about the project, the global natural death movement, and how you can become involved.