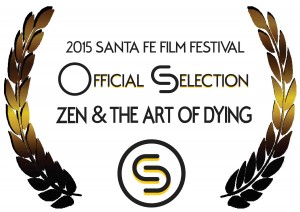 We're pleased to announce that Zen & the Art of Dying is an official selection of the 15th Annual Santa Fe Film Festival, which runs December 2-6, 2015. Director Broderick Fox and Executive Producer Lee Biolos will be attending the festival. 
The film will screen 11 AM Sunday December 6 at The Screen: Santa Fe University of Art and Design, with a Q&A with Fox and Biolos to follow.
Fox's last feature documentary, the autobiographical The Skin I'm In also screened at the 2012 Santa Fe Film Festival, garnering high praise from festival screener and reviewer Laura K. Marsh. Fox was unable to attend the 2012 festival, as he was in Australia filming Zen & the Art of Dying at the time, so he looks forward to being able to fully participate in this year's events and engage with Santa Fe audiences.
More info on the Santa Fe Film Festival at: http://santafefilmfestival.com