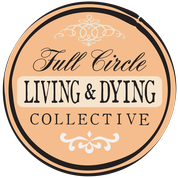 Hey Northern California! The Full Circle Living & Dying Collective in Grass Valley, CA will be screening the film on Sunday August 13th!
Film Screening: Zen & the Art of Dying
Sunday August 13, 2017 4pm-6pm
Location: The Open Book
671 Maltman St. Grass Valley, CA
Suggested donation:$5-$10
The film will be followed by discussion and information about central subject Zenith Virago's upcoming three-day Deathwalker Training coming to Nevada City Sept 28-30 & Oct. 1, 2017!
Let's #DoDeathDifferently!